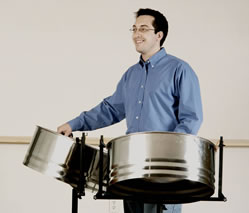 Rick Henson is a classically trained percussionist who discovered the thrill of performing on steel pans when searching for something unique and challenging after college. For instruction in pan performance, Rick went to Don Prorak, esteemed leader of the Colorado-based Pan Jumbies. His passion for music was rejuvenated and soon Rocky Mountain Steel Bands was born.
Rick Henson is a seasoned professional who has been performing and teaching for over 15 years.
Rick performs with the Pan Jumbies, Denver's premier steel band. He also is the founder of Strings & Steel which is a steel drum and guitar duo that performs regularly throughout the Rocky Mountain region; and most recently he formed the headline ensemble Urban Island, featuring four pan performers, vocals, trap set, and percussion.
Contact Rick for more information about Rocky Mountain Steel Bands performing groups and classes.
303-886-5180